Geo dome tents
Geo dome tents – the strongest, lightest, most effective building facility.
Spherical dome shape composed of triangular elements, created with the aim to create a structure that is similar to the nature of typical design. The aim is to promote the architectural integrity of the dome tent is featured beautiful and mathematically perfect geodesic geometry of the buildings, which is futuristic, sustainable and visually inspiring.
We have requested large and small, private and commercial events, festivals and marketing campaigns, our fabricated domes delight visitors to a number of leading mass events, and many marketing industry domes used as a powerful central event object.
Domes are placed in several Latvian regions and events, RCB Library Reading Room in Riga, Lucavsala, Butterfly House in Sigulda, Play Ground Festival in Riga, POZITIVUS festival in Salacgrīva city, city events in Liepāja, ZZ championships, festival LAMPA in Cēsis and many other smaller and larger events.
We make and rent domed tents, tent The dome is in demand as an event and celebration tent, concert stage, glamping tent.
A modern, interesting and stylish place for celebrating birthdays, bachelor and hen parties, organizing corporate events, presentations, or just having a good time! Can be used to create a Glamping tent.
In the center of the dome you can hear the magical stereophonic echo of the dome, which makes visiting the dome an exciting event;
Dome tent, can be completed with removable walls, transparent front or other part of the tent, incorporate windows, mosquito nets, additional exits;
Wind loads, the shape of the dome is ideal for adverse weather conditions, the dome is pushed to the ground under the influence of wind, so no monolithic anchors are needed for reinforcement;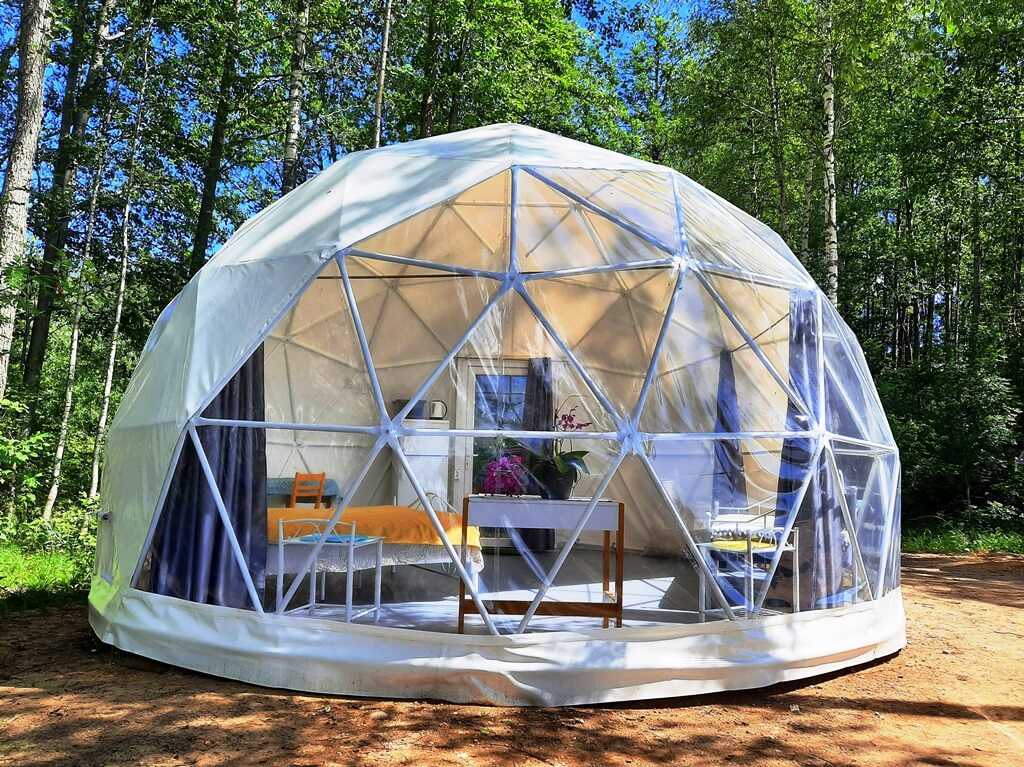 ---