Advertising design for events from MTKO For Events
  

MITKO HAS BEEN ON THE MARKET FOR 30 YEARS
"Siguldas tents" SIA has become MITKO Sp. z o.o. official distributor.
Mitko, with its seat in Wodzisław Śląski, has been on the market since 1989. From the beginning of our activity, we put emphasis on professional service and quality of our products. We are currently the leading manufacturer of outdoor advertising media. We specialize in the production of advertising tents, umbrellas and flags. We are one of a few companies that can boast a comprehensive customer service at the stage of sale, production, and delivery.
With our own ironworks, we are an independent manufacturer of tents and flagpoles. This has a substantial impact on the timeliness and independent production. Our sewing room specializes in customizing thick polyester fabrics used for the production of tents and umbrellas. Our own digital printing shop, specializing in dye-sublimation print, ensures timely execution of each order and control of the printing process. With our screen printing workshop we can professionally print repetitive elements.
Our products are monitored for quality and compliance with the order at every production stage. in accordance with the requirements of the European standard (EN-PN 13782:2015-07 Temporary structure – Tents – Safety), which determines the safe use of temporary structures, tents and canopies. All products are covered by the manufacturer's warranty. Moreover, we provide comprehensive after-warranty service and technical consulting of our engineers.
In our printing house, a new technology is available, thanks to which the colors of the prints remain vivid for longer. Resin printing is characterized by the best color reproduction and the highest UV resistance. The fading tests of our tents showed that the cover, after 90 days of continuous exposure to sunlight, still kept the original color.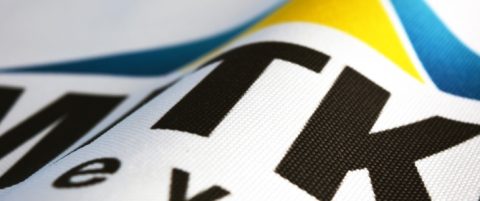 TENTS THAT CREATE A UNIQUE EVENT ATMOSPHERE
POP-UP CANOPIES WITH 21 COLOR TONES.
For events and advertising we offer POP-UP canopies – digital print of 21 color tones, 4 series of frames Octa Go, Octa Optima, Octa Pro, Octa Pro LED, 14 size options. Designed for frequent and intensive use, with built-in LED lighting. The light aluminum frame allows two people to assemble the tent in a couple of minutes.

JEHLAN – STAR TENTS
The area of the tent is up to 13 × 22 meters, it's so compact that it fits in the trunk of a car.
Only 2-3 people are needed to install it. Assembly is not difficult!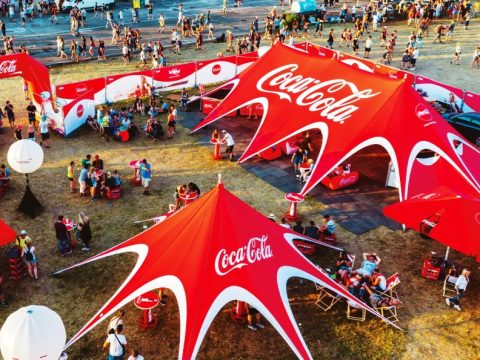 DOME TENTS
The tent stands out for its shape.
This form can be emphasized by lighting it with wireless LED lamps placed on the structure.
It is also worth noting how much space under the roof is available for Dome tent users.
PYRAMID STAR and BELL DOME tents are an integral part of mass events. Their original form, visible from a distance, attracts the attention of event participants.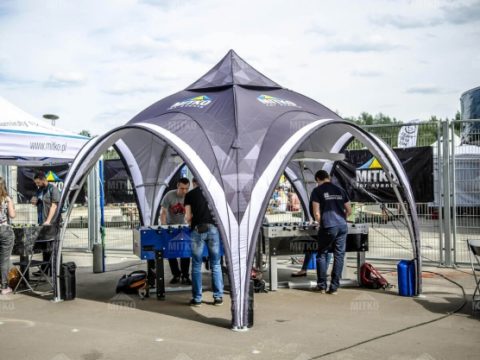 ADVERTISING UMBRELLAS WITH ELEGANT DESIGN IN GRAY.
Advertising umbrellas are an integral part of summer gardens in restaurants and hotels. They protect against the sun and rain, and with print they can nicely present the company's logo. Advertising umbrellas are a very popular and effective advertising medium, which thanks to the aluminum construction, is characterized by remarkable durability, as well as ease of transport and assembly.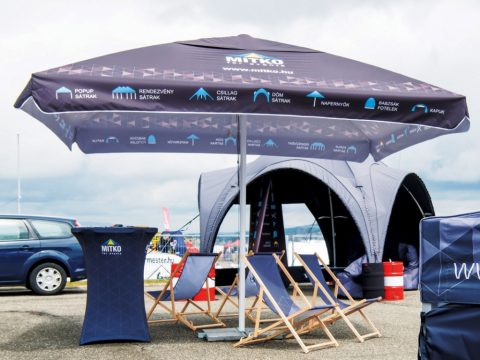 ADVERTISING SUN SAILS
An advertising sun sails is an interesting alternative to umbrellas, but due to the specifics of its installation, it can only be used in a suitable space. Attach the sail to trees or building elements and determine the height and angle of the sail according to your needs. The huge surface of the sail will cover the chosen event space, protecting it from excessive sun and light rainfall. Graphics placed on it will be visible from a distance and will certainly be recognized by customers as an original form of advertising.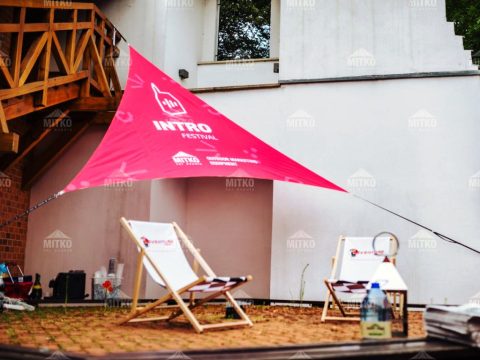 ADVERTISING FLAGS
Advertising flags attract attention from a distance and indicate the location of the event. This is why high flag poles with original graphics printed on the flags are definitely a good way to advertise. We made sure that our flags are unique: aluminum poles are responsible for their strength and resistance to wind gusts, and the digital print placed on the flags is resistant to abrasion. Flags can be an independent advertising medium or complement to an event stand, e. g. in combination with Pop-Up tents.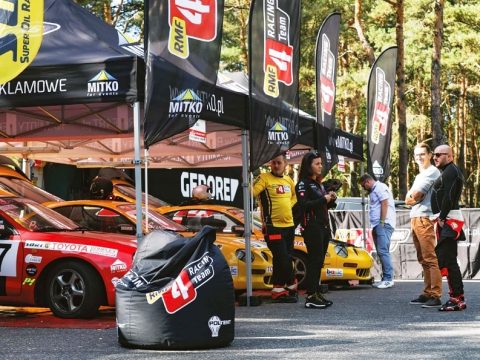 EVENT ACCESSORIES
ADVERTISING BEAN BAGS
The chill zone is a must have during events. And where there is a chill zone, that's where promotional bean bags are essential. Use the entire surface of the seats and put interesting graphics on their cover. Advertising bean bags also successfully equip office spaces: waiting rooms, showrooms and customer service offices. In our offer you will find bean bags, cubes, Kiddy bean bags and Origami cubes, which you can also use as a box or a table.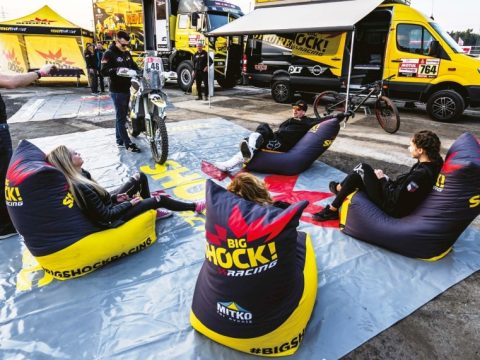 ADVERTISING DECK CHAIRS
With our advertising deckchairs, you can accompany your customers on the beaches, in restaurants or during events, and your customers, unknowingly, associate with your brand so it becomes recognizable to them. If you want to stand out from the crowd even more, choose a double-sided printing and a back valance. Make good use of this advertising space and the message will certainly not go unnoticed.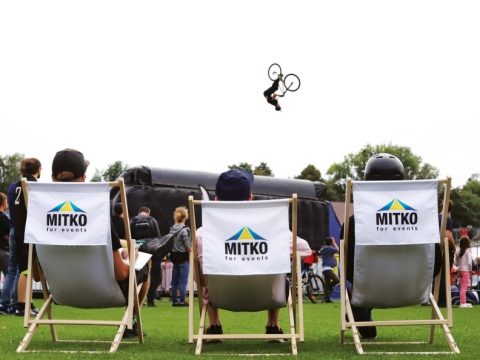 ADVERTISING CHAIRS
Seats with the logo are a permanent feature of all indoor and outdoor events. If you want to draw the attention of the event's guests to your company, choose the original advertising media. A chair with one-sided or double-sided printing gives you the opportunity to design an interesting advertising message. Take advantage of this, mark your presence at the event and reach new customers.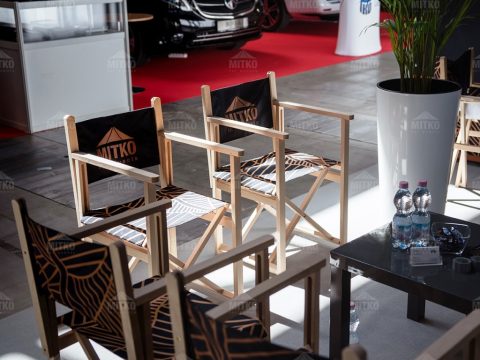 ADVERTISING STAND TABLE
When designing a stand for the trade fair, you take care of an impeccable presentation of your company. Remember that it is equally important to separate the space where customers will be able to talk to you. A stand table is used as a supplement to the trade fair stand or a mobile advertising stand, e.g. as an information point during events.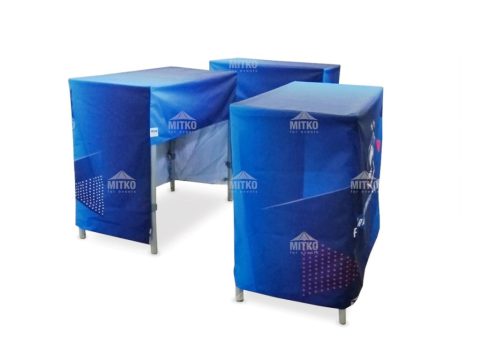 PONCHO BANNERS
Thanks to Poncho banners, separating event zones becomes easier! You no longer have to worry about time-consuming banner mounting on barriers or organizing the right amount of plastic zip ties. Poncho banners are simply placed over the barrier and attached with strong hook and loop tape sewn into the fabric. Installation is quick, efficient and requires no additional tools. Make full use of the advertising space and print both sides of the banner. The polyester cover is lightweight and the sublimation print is extremely durable.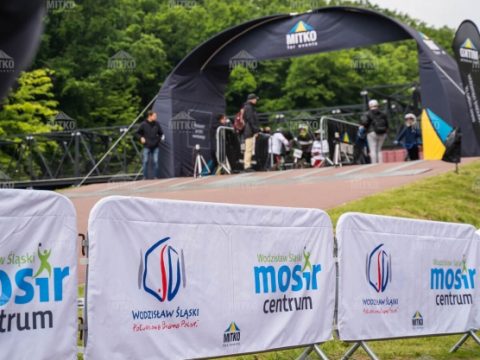 PROMOTIONAL BARRIER
Advertising barriers are an essential part of all sports competitions, concerts and other big/major events. They separate the service part from the event zone, and during sports competitions they set the route of the run or space for the organizers and participants. The extensions combined with the main structure enable modular connection of advertising barriers, and their mobility allows you to change the setting of the fences even during the event.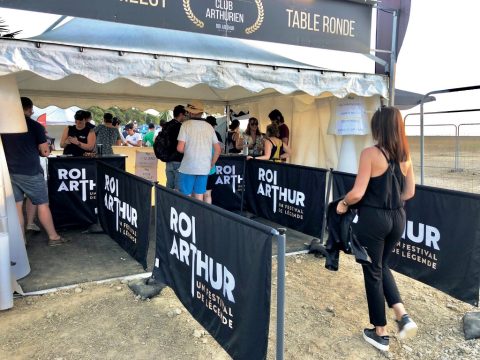 ROLL-UPS
Rollups are popular advertising media. Take them with you to events in which you participate and let your customers remember you for longer. Roll-ups can be a part of a stand's equipment or can be used independently. On a daily basis, in administrative facilities and offices, they serve the function of display and information. During industry events, these lightweight display systems allow you to present your brand's logo and advertising message. When you don't need the rollup, you can fold it in just a few seconds and store in the aluminum cassette.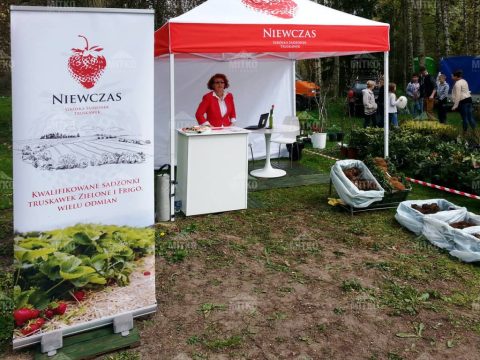 ZIPPER WALLS
Zipper walls are mobile advertising media. You can choose their size and shape, and decide which graphics will be printed on the cover. The zipper wall is easy to transport in the trunk of your car, and to quickly unfold it on the spot. The cover is made of stretch fabric to make it even easier to install. Use zipper walls as an addition to the stand or to separate a completely independent event space.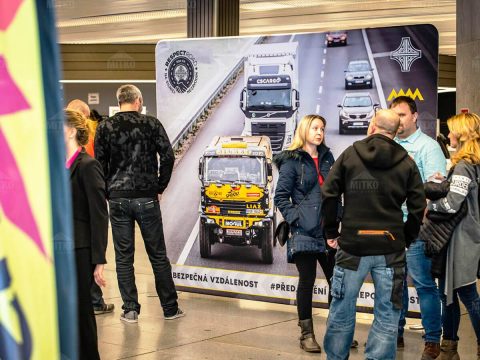 ADVERTISING WEDGES
Advertising wedges filled with polyurethane foam are durable, yet lightweight and easy to transport. They determine the event area and at the same time perform an advertising function. Thanks to the fact that they bend under pressure, they are safe for the participants of the event. The side walls of the advertising banners are sewn with webbing ending in steel half-rings, so if you need a stable installation of the wedge, it can be anchored to the ground with pins.